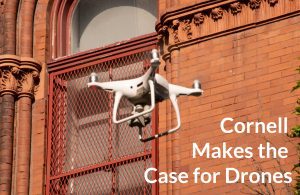 Don't knock it 'til you've tried it. That's the essence of Cornell Tech's research report, Rebooting NYC, which asks the City to give drones a chance by conducting a thorough study to see how their potential plays out for FISP facade inspections (see section 3.5).
In our own field testing, SUPERSTRUCTURES has effectively used drones on projects outside of NYC. There, use of drones provided an array of high-definition, inspectable images of the building facade, and, in some cases, eliminated the necessity for erecting expensive scaffolding to inspect hard-to-access locations (e.g. towers and turrets). Anything that makes the process of inspection and restoration more effective offers the "knock on" effect of minimizing sidewalk shed time.
Cornell's report doesn't characterize drones as a panacea for FISP requirements or a replacement for Qualified Exterior Wall Inspectors (QEWIs). But they're potential tool and, like any tool that might benefit a QEWI, should be seriously considered.
SUPERSTRUCTURES looks forward to the day when drones are cleared for takeoff and can help carry exterior restoration fully into the 21st century. For more on the history and implications of FISP in general, see our short presentation.