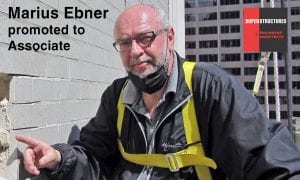 Congratulations to SUPERSTRUCTURES' Marius Ebner who has been promoted to Associate. This promotion is a direct reflection of his professional stature and invaluable contributions to our success. Marius is held in high regard by his coworkers, by his colleagues in the profession, and by the firm's prestigious clients.
When Marius started at SUPERSTRUCTURES in 1997, the firm had about 25 architects and engineers, a quarter of its current size. "That's a strong statement on the quality of our drawings, the quality of our expertise, the dedication of our team, and the appreciation of our work from our clients who keep calling for new projects," Marius observes.
One of Marius' favorite projects from his 24 years with the firm is Luna Park, a $53 million, five-year project to restore 20 20-story buildings. SUPERSTRUCTURES acted as the owner's representative for the project, which included installation of new roofs and railings, replacement of all brick facades and shelf angles, and waterproofing. Due to the buildings' lack of parapets and the new 20-year, NDL-warrantied roof, we recommended to the board—and the contractor installed—roof stub columns in a specific pattern to allow suspended scaffold tie-backs in lieu of penetrating the roof.
Beyond his work for SUPERSTRUCTURES, one of Marius' personal goals is to stay healthy following the hard times of the pandemic: "I'm looking to improve and to change some old habits," he says. We're glad that he's not planning on changing his outstanding professional habits that greatly benefit our work.