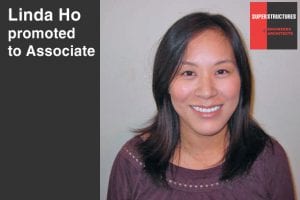 Congratulations to SUPERSTRUCTURES' Linda Ho, who has been promoted to Associate. Linda's promotion reflects her exemplary professionalism and outstanding contributions to our success. She's held in high regard by members of her studio, by the firm, by her colleagues in the profession, and by our prestigious clients.
Linda's 16 years with the firm have given her many opportunities for growth. "I started primarily with drafting, then learned about field survey and analysis, specifications writing and estimation, project management, and inspections," she observes of her professional journey.
One of Linda's favorite projects from her work of recent years is the curtain wall replacement of NYU's Warren Weaver Hall. This three-phase project included replacement of the existing, single-glazed steel curtain wall with a new, state-of-the-art, thermally efficient aluminum curtain wall. This new system also updated the exterior appearance of the building while maintaining its original aesthetic. A two-story visual mockup was installed in the building, and a standalone performance mockup was installed on a wood frame and field tested for air and water infiltration.
When not working on SUPERSTRUCTURES' projects, Linda likes to run and swim (more running since pools have been closed due to the pandemic). She's also a Girl Scout troop co-leader for her daughter's troop, so she's ready to take your cookie order.