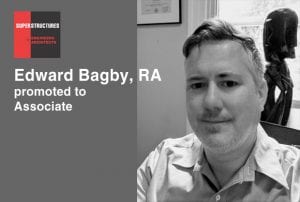 Congratulations to SUPERSTRUCTURES' Edward Bagby, RA who has been promoted to Associate. This promotion is a direct reflection of his innovative professional efforts and key contributions to our success. Edward is held in high regard by his coworkers, by his colleagues in the profession, and by the firm's prestigious clients.
Edward's R & D work in our Tech Studio began in 2000 and, over the past 20 years, he's been instrumental to our efforts to bring the practice of exterior restoration into the 21st century. "Early on, I had to learn quickly how to go from initial R & D to finalizing tools useful for the other studios," he reflects. His experience as a project architect/manager rounded out his perspective of what the studios need at all levels. "Most importantly," he says, "every effort at SUPERSTRUCTURES is an education in itself and opens up a greater understanding of what's possible with the work we do."
Edward cites a number of favorite projects from his work with the Tech Studio: cementing standard Restoration Assembly Detail (RAD) tags and refining their details, ramping up Revit for our work for the GSA, assisting with our new office design, and launching our AIM 4 software which took our information management capability to the next level.
When not working on SUPERSTRUCTURES' projects, the Portland, Oregon-based Edward likes to take advantage of the varied Pacific Northwest landscapes with outdoor activities such as snowboarding and hiking. He also enjoys reading and trying to keep up with his two teen boys.