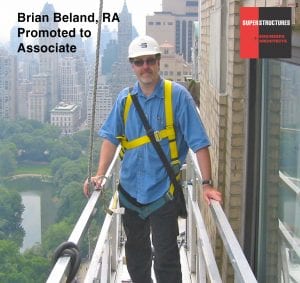 Congratulations to SUPERSTRUCTURES' Brian Beland, RA, who has been promoted to Associate. This promotion adds to Brian's professional distinctions and reflects his significant contributions to our success. He's held in high regard by members of his studio, by the firm, by his colleagues in the profession, and by our prestigious clients.
In his 22 years with the firm, Brian's work has evolved through learning (the hard way, he notes) about those things not taught in school, such as effectively dealing with clients and contractors and mentoring a diverse team to help grow their potential and elevate their work.
When asked about his favorite projects, Brian cites the Solow Building at 9 West 57th Street—"for its iconic envelope," he says, "and also because that's been my highest scaffold drop yet, at 50 stories."
When not working on SUPERSTRUCTURES' projects, Brian likes to travel (in non-pandemic times). His preferred destinations offer natural beauty or rich cultural and architectural history.