Guy Mazza of Prosoco presented "Restoration Cleaning: Turning Back the Hands of Time" on October 16th. The latest seminar in our monthly continuing education series, his talk examined the dos and don'ts of the building cleaning process for about 90 clients and colleagues in our classroom.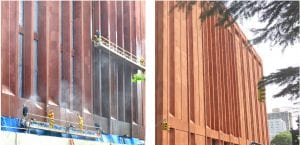 When Rembrandt's epic painting known as The Night Watch was cleaned in 1946, it became clear that its title was misleading—the night watch became the day shift with the removal of all that grime and varnish. The point here is that the simple act of cleaning can change our fundamental perception of something, whether it's a painting or a building.
For that matter, cleaning buildings is far from a simple act, as Guy demonstrated. Choosing the right solvent, technique, and even weather conditions can make or break a facade cleaning. A successful cleaning can improve property values, inform the restoration process, and arrest the damage that dirt can do to a building over time.
New York City's buildings are especially susceptible to atmospheric staining, carbon accumulation, and biological soiling—all of which occur naturally over time. Many of the building elements we address in envelope restoration projects are effectively invisible. An effective cleaning is often the most evident sign that a building is "like new."