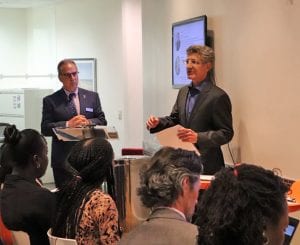 David May, RA, a founding partner of SUPERSTRUCTURES, participated in the workshop Increasing and Stabilizing Property Value in Today's Market presented by FirstService Residential on Thursday, September 26. David was part of a breakout session on Exterior Projects, along with colleagues from the property management and contractor industries.
David's talk focused on explaining New York City code requirements for three main areas related to the building envelope: FISP/LL11 Cycle 9, new protocols for periodic inspection of parking structures, and the 2020 NYC Energy Construction Code. Moreover, he helped the audience of building board members and managing agents understand how to be proactive in complying with these regulations.
David serves on two technical committees of the NYC DOB's 2019 Building Code Revision Project. He has also served as Board President of his 215-unit, two-building Murray Hill co-operative for the past 15 years, overseeing numerous major capital improvement projects including LL11 facade restorations and the addition of a roof deck. With this wealth of experience from both a policy-maker and client perspective, David is uniquely positioned to help building stakeholders navigate exterior project challenges.