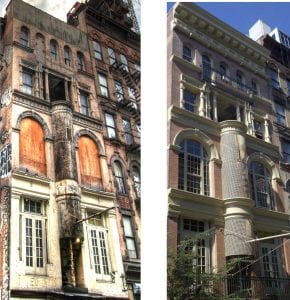 SUPERSTRUCTURES is proud to have worked on a number of projects related to the history and culture of African Americans in New York. Among them is the Rod Rodgers Dance Company, which shares space in a historic building with the Duo Theatre. SUPERSTRUCTURES provided investigation, design, and construction administration services to restore the 1890 structure by architect Max Schroff, earning a Lucy G. Moses Preservation Project Award from the New York Landmarks Conservancy.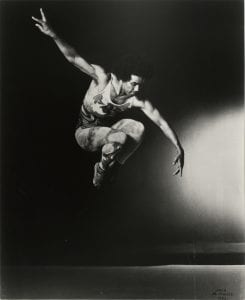 Photo of Rod Rodgers by Jack Mitchell, Detroit Public Library Digital Collections
Rod Rodgers (1937-2002) was a second-generation black choreographer who worked extensively in modern dance and musical theatre. He was best known for his development of concert repertoire which explores and celebrates the black experience. Rodgers founded his dance company in 1966. Its home at 62 East 4th Street, in the East Village / Lower East Side Historic District, features an unusual facade with large French windows on the second floor, neoclassical detailing, and a circular fire escape leading down from a loggia on the fourth floor, screened by perforated iron mesh.
SUPERSTRUCTURES' exterior restoration of the building for the NYC Department of Design and Construction involved recreating the cornice and balconies, replacing the windows with historically appropriate materials, and analyzing paint in order to match the historic color. SUPERSTRUCTURES is proud to have restored this distinctive 19th century structure, home to one of New York's most vibrant African American performing arts ensembles.
Survey similar projects here.