SUPERSTRUCTURES is proud to have worked on a number of projects related to the history and culture of Black New Yorkers. Among them is the Adam Clayton Powell, Jr. State Office Building in Harlem. SUPERSTRUCTURES provided investigation, design, and construction administration services to restore the facade and curtain wall of the 1973 structure.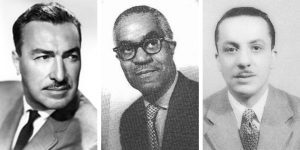 L to R: Adam Clayton Powell, Jr., Percy Ifill, Conrad Johnson
Not only is the building named for a renowned Black politician who represented Harlem in the House for 26 years, it was designed by Black architects: Percy C. Ifill and Conrad Johnson. Ifill was a graduate of Cornell University and NYU, and his firm, co-lead with Johnson, designed various residential, civic, and commercial buildings in New York, Baltimore, and Liberia. The State Office Building commission was driven by Governor Nelson Rockefeller, who saw the need for a greater governmental presence in the historically Black neighborhood.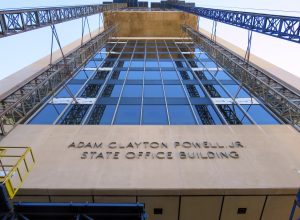 Ifill and Johnson's design combines inspiration from the form of an African mask with the Brutalist geometry of the day, a mixture that made the building iconic—and controversial—from the outset. SUPERSTRUCTURES' restoration of the tower included cleaning of the limestone facade and the replacement of 1,042 single-glazed, pivoting sashes with new thermally efficient windows featuring high-efficiency insulating glass, improving the function of the modernist design.