Spanning four blocks along the West Side Highway, the Borough of Manhattan Community College is a campus in a single, expansive building. Completed in 1983, it incorporates 79 classrooms and seminar rooms, numerous laboratories, three lecture halls, a library, a gymnasium, an auditorium, and a theater. This comprehensive academic facility has a complex envelope, incorporating multiple roof and plaza levels. In other words: not your typical roof restoration project.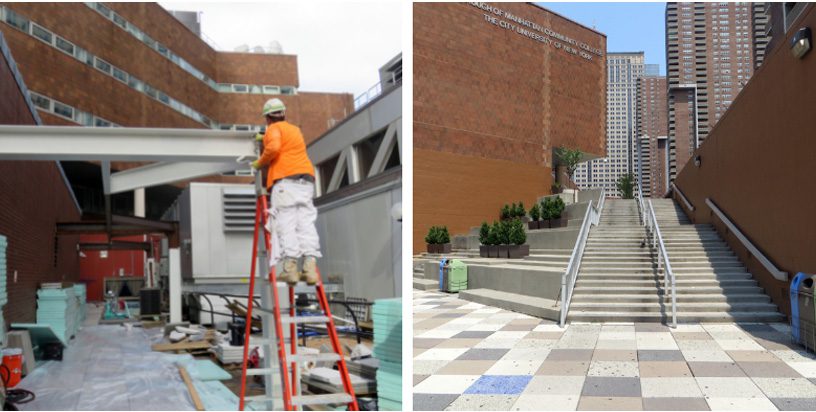 Applying our extensive experience with large, complex building envelope restorations, SUPERSTRUCTURES provided investigation, design, and construction administration services to restore BMCC's plazas and roofs through two major projects. The first, for CUNY, addressed the main, theater, and penthouse roofs. The main roof was designed to receive solar panels—one of the largest such installations in NYC. The second, for DASNY, restored the remaining roofs and plazas. Altogether, these projects addressed 13 plaza and roof areas and four different plaza and roofing system types.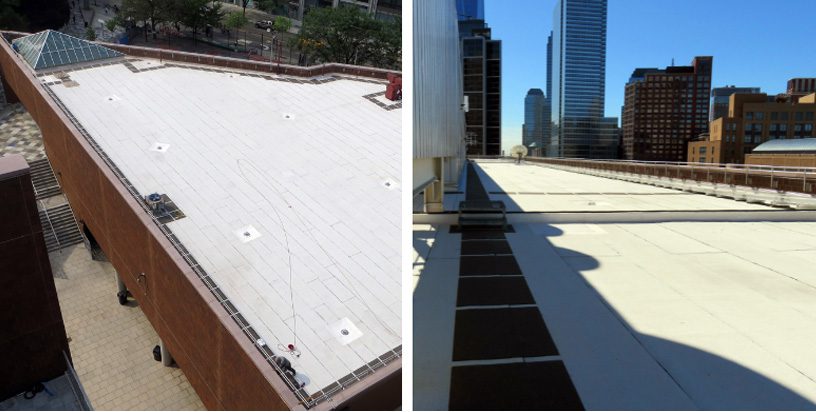 The project included removal and replacement of the existing roof and plaza membranes and flashings, installation of new wearing surfaces on rooftops and terraces, and partial composite concrete deck replacement at exterior walkways. It also involved removal and replacement of exterior concrete stairs, removal and replacement of handrails at exterior stairs, and parapet railing installation.
This project could be seen as a microcosm of our work throughout New York City: restoring the interconnected envelope of its great institutions—the infrastructure—or "outfrastructure"—that New York relies on.