SUPERSTRUCTURES is proud to have contributed to an award-winning project completed in Manhattan's Battery Park.  On March 16, the New York Chapter of the American Society of Landscape Architects announced winners of its 2017 Design Awards, with the "Battery Perimeter, Bikeway, Oval and Woodland" project receiving one of five Honor Awards.
As sub-consultant to landscape architect Quennell Rothschild & Partners, SUPERSTRUCTURES provided conservation and restoration services for 11 monuments being relocated as part of the Battery Park re-design.
The work involved masonry repairs, pointing, cleaning, installation of new foundations, and the installation of fully restored monuments in their new locations. The firm also contributed to submissions to the Public Design Commission and its Conservation Advisory Group.
The restored monuments are:
Giovanni da Verrazzano Monument
Peter Caesar Alberti Marker
Walloon Settlers Memorial
Salvation Army Memorial
Netherlands Memorial Flagpole
Fort George Marker
Battery Park Cannon
John Ericsson Statue
Wireless Operators Memorial
John Wolfe Ambrose Memorial
Coast Guard Memorial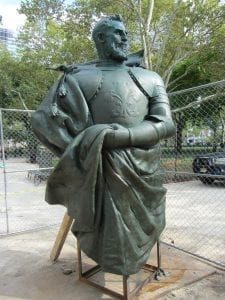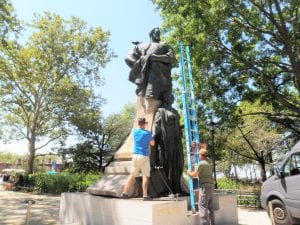 Their restoration also required decorative metal casting, bronze and cast iron restoration, and fabrication of replication monument bases. A sculptor recreated the bronze statue of John Wolfe Ambrose, based on photographs of the original.  The statue of Verrazzano, had been reduced to half its original length.  A sculptural cape was added to restore the figure to its original height, and SUPERSTRUCTURES redesigned the statue's base accordingly.  Work also included restoration of granite fountains which had to be partially dismantled to repair plumbing embedded in the stone. Studio head Lorie Riddle recalled design of iron straps by which the Battery Park Cannon was attached to its new base as one of the unique details of the work required.
The Honor Award will be presented at the ASLA-NY Design Awards Ceremony and Reception to be held on Thursday, April 6 at the Center for Architecture in Manhattan.  Landscape architect Starr Whitehouse Landscape Architects and Planners was cited along with Quennell Rothschild for their work on the project.
Founded in 1899, ASLA represents over 15,000 members in 49 professional chapters and 76 student chapters.  The New York chapter, founded in 1914 encompasses the five boroughs of New York City, Long Island and five upstate counties.