An appreciation of building details and materials is cultivated in all the work we do as the region's leading firm specializing in exterior restoration. Not surprisingly, that same focus is the motivation behind Construction Matters, a new book by SUPERSTRUCTURES architect Georg Windeck, RA, published this spring by powerHouse Books.
Organized into chapters on four major methods of construction–masonry, concrete, steel, and wood, Construction Matters discusses specific technologies that experienced major transformations in the last century, or were newly invented: a new material, jointing technique, or fabrication procedure for example. The architectural applications of these inventions are then analyzed with building case studies illustrating a relationship between a building's form and the new type of construction that it incorporates. Examples range from prewar designs in the United States and Europe to recent projects in Asia.
In addition to his work at SUPERSTRUCTURES, Georg is also an Associate Professor Adjunct at Cooper Union's Irwin S. Chanin School of Architecture. When Georg was studying for the NY architectural registration board exams he found the available textbooks uninspiring when dealing with technical topics, and he realized that the classes he was teaching would be enhanced by a fresh approach to the relationship between materials, construction and architectural expression. The resulting seminars, such as "The 20th Century in Detail," so engaged the students that he was encouraged to further develop his concepts in book form. The book project became a collaboration involving three of his former students, who have been credited as co-editors. Liberally illustrated with photographs and drawings, the book's handsome design is the work of Leah Beeferman.
Construction Matters is written in language accessible to everybody, even those with no previous experience with architecture. It addresses anyone interested in the process of making, and does not identify any particular method of construction as "correct" but rather seeks to introduce a way of thinking about the subject that learns from the past and also translates to technologies to come.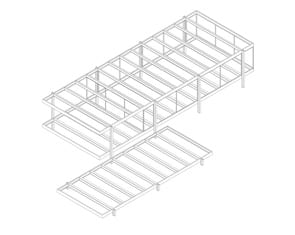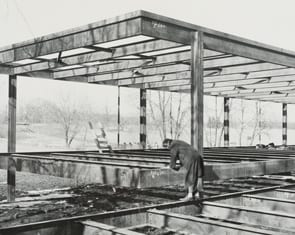 The Farnsworth House in Plano Illinois by Ludwig Mies van der Rohe is a steel frame assembled from rolled I-beams, channels and L-profiles. The connections between the members are plug-welded; this creates rigid joints that are completely invisible. Drawing by Construction Matters. Photo by unknown photographer, winter 1949-50; courtesy Myron Goldsmith Fonds Collection, Centre Canadien d'Architecture / Canadian Centre for Architecture, Montréal.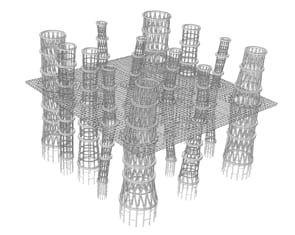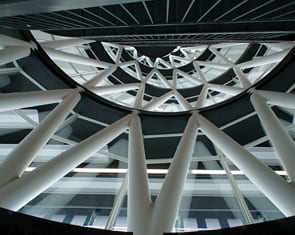 The Sendai Mediateque in Japan by Toyo Ito and Mutsuro Sasaki that was built 50 years later is also a welded steel structure. It is put together from seamless tubular sections that are composed to warping circular shafts. The complex angles of the welded joints are milled by robots used in ship-building. Drawing by Construction Matters. Photo courtesy Dennis Gilstad.