SUPERSTRUCTURES is thrilled to announce that once again, one of our projects has been honored by the New York Landmarks Conservancy with a Lucy G. Moses Preservation Award—our eleventh "Lucy" and eighth in the past ten years.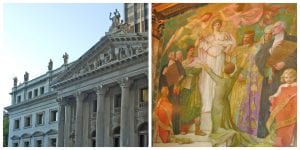 The Preservation Award was presented in recognition of our work on the Appellate Division Courthouse (James Brown Lord, 1899), specifically the conservation and restoration of the Beaux-arts building's interior murals. It was presented virtually on September 23rd in a socially distanced celebration of the Conservancy's 30th anniversary of the Lucy Moses awards—the "Oscars" of preservation.
Amanda Park, SUPERSTRUCTURES' Senior Conservator, was cited for her work on the historic murals in the courthouse's main hall and courtroom. Created by ten notable artists associated with the National Society of Mural Painters, the murals depict allegorical and historical figures of law and justice. "Given the murals' prominent placement in the lobby, along the staircases, and along the courtroom walls, they are certainly integral to the historic and aesthetic significance of the courthouse," said Park.
The paintings' surfaces were soiled and canvas was beginning to lose adhesion to the plaster substrate. SUPERSTRUCTURES performed an in-depth assessment of existing conditions—updating an earlier survey—and new construction documents and specifications were produced for the restoration of the murals. Treatment involved the cleaning of vertical staining from condensation and surface dirt and grime. "You need to ensure that the canvas is well bonded to the substrate while avoiding planar distortion in the canvas that could damage original paint layers," Park observes. "It's a delicate balance, and accordingly we needed to create a minimally invasive treatment plan."
This award was given jointly to the New York City Department of Design and Construction and the Department of Citywide Administrative Services for their preservation of three city-held buildings: The Appellate Division Courthouse, the Surrogate's Courthouse, and the Sun Building. While SUPERSTRUCTURES wasn't cited for our work on the latter two, it's worth noting that we previously performed investigations on both. Other project participants with whom we shared this award: Gannet Fleming Architects & Engineers and Neelam Construction.
SUPERSTRUCTURES is grateful to the Conservancy for this honor, and proud to again be recognized for our contributions to restoring and preserving the built environment of New York.