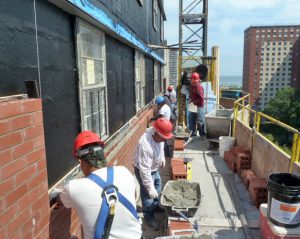 SUPERSTRUCTURES' professional relationship is ultimately with our clients: building owners. The contractors we work with also answer to owners, so we view them as natural allies in getting our designs built as intended for the benefit of our clients.
So how do we foster these contractor alliances? The key is in the quality of our drawings. Their purpose is to make our design intentions as clear as possible to the contractor. We gravitate towards drawings rather than written specifications because these are builders, not lawyers. For our clients, this inherent clarity minimizes change orders (typically 3% or less) and time delays.
We get very few RFI's (requests for information) from contractors based on our contract documents. When we do, we take them seriously because they help us learn how to make our intentions even more clear—on the current project as well as future projects. Plus, allies share information in the interest of mutual success, so responsiveness to RFIs helps strengthen our contractor alliances.