In the latest seminar in our monthly continuing education series, Anthony Truppi of Keim Mineral Coatings presented "Mineral Silicate Paints and Stains for Masonry Facades." His talk on February 12th explored the history, chemistry, and applications of mineral silicate finishes for about 100 clients and colleagues in our classroom.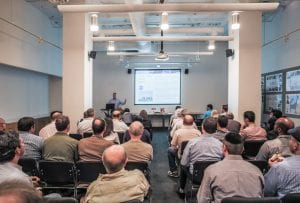 From New York to Singapore, mineral silicate finishes are being used for historic preservation as well as new construction. SUPERSTRUCTURES has used them on high-profile projects such as St. Paul's Chapel, which won a Lucy Moses Preservation Award, and our recent restoration of John Jay College's Haaren Hall.
These finishes have an interesting history. Similar paints were known to the Ancient Egyptians, but it wasn't until a 19th century monarch—Ludwig I of Bavaria—challenged his subjects to develop a new product that modern mineral silicate paints were invented. An admirer of the lime frescoes he saw in Italy, Ludwig sought a way to create such exterior masterpieces in the less temperate climate of the Alps. Inventor Adolf Wilhelm Keim won Ludwig's contest, combining inorganic mineral pigments and potassium alkali silicate ("water glass") to produce the first modern mineral silicate paints in 1878.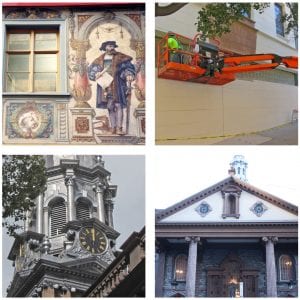 Mineral silicate paints offer many qualities suited for finishing masonry surfaces such as concrete, brick, stone, and terra cotta. Unlike latex and acrylic paints that mechanically adhere to masonry, mineral silicate paints penetrate and chemically bond with the surface, producing a matte finish that won't peel. They're breathable to release water vapor from the substrate, but block water infiltration. Mineral silicate paints are color fast and evenly diffuse light. They're fire resistant and don't produce off gassing of VOCs.