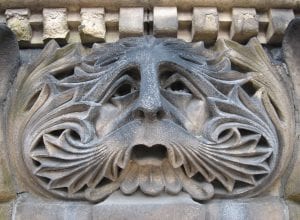 Throughout the city, SUPERSTRUCTURES has encountered some surprising and sinister figures glaring down from parapets and facades. And not just on Halloween, but every day of the year. They menace our team with leering looks wrought in terra cotta, cast iron, and stone. The culprits? Gargoyles and grotesques.
Whether whimsical or diabolical, these characters have a long history of inhabiting buildings—from medieval cathedrals to contemporary nods to pop culture like the Alien xenomorph on Paisley Abbey in Scotland or Darth Vader on the National Cathedral in Washington, DC. But before you call the Ghostbusters, consider a few fun facts about these architectural gremlins:
What makes a gargoyle a gargoyle? While the term is often applied to any type of fantastic figure adorning a building, there's an important caveat: gargoyles serve as downspouts, while grotesques don't. Originally, gargoyles functioned as decorative disguises for roof drainage, directing water away from facades like that of Notre Dame Cathedral in Paris.
In medieval church architecture, they also served as part of a dense decorative program meant to instruct—and terrify—the illiterate masses. From demonic beasts to pagan "green men," they helped promote the power of the Church.
Some modern renditions celebrate industry, while others memorialize building patrons, incorporating a biographical element into the built environment.
From collegiate gothic to Art Deco facades, here are some of our favorite gargoyles and grotesques encountered in our work on New York's buildings (and beyond):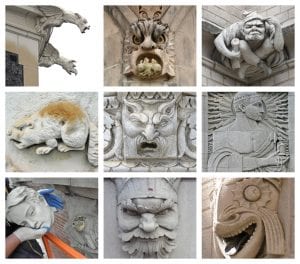 Top row from left: Two downspout gargoyles on a chimney at City College's Compton-Goethals Hall; A toothy green man from the MacIntyre building; A pensive figure of a scholar from Westinghouse High School. Middle row from left: A stern beaver from the seal of New York on the Manhattan Municipal Building; A fiendish terra cotta face from 345 Adams Street, Brooklyn; An avatar of electrical invention from the Graybar Building. Bottom row from left: One of numerous pupil figures from Haaren Hall; A sly green man from the Hotel Beacon; A chimeric figure that serves as a downspout on Yale University's Sheffield-Sterling-Strathcona Hall.