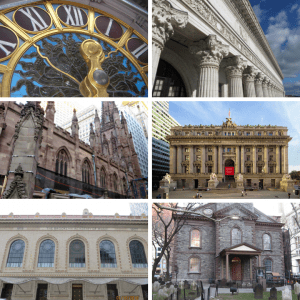 SUPERSTRUCTURES joins the National Trust for Historic Preservation and local organizations across the country in celebrating Preservation Month in May.
In our approach to restoring buildings—whether officially landmarked or not, we subscribe to the spirit of the Hippocratic Oath: "First do no harm."
As architects and engineers specializing in exterior restoration, we maintain a broad focus. At one end of the spectrum, we draw on a sense of architectural history and a familiarity with archaic materials and construction techniques. At the other end, we supplement this knowledge with a palette of solutions, often involving technology and materials not dreamt of when the subject building was originally designed.
For virtually every component of every project we do, we ask ourselves: What's appropriate—restore or replace? The answer involves a balance among considerations that sometimes compete with one another: historic authenticity, technical performance, longevity, expense, product availability, and construction inconvenience, to name a few.
We must be doing something right. Our projects have been honored with multiple Lucy G. Moses Preservation Awards from the New York Landmarks Conservancy—the NYC preservation community's highest honor.