Many of our projects focus on single elements of a building's exterior envelope, such as a facade, roof, or fenestration. In the case of NYU's 404 Lafayette / 708 Broadway facility, it was "all of the above," and more. We view each building envelope as a continuum—from roof to sidewalk vaults—but rarely do we get to work on all components of this continuum in a single project.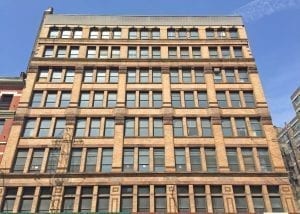 Designed by architects Cleverdon and Putzel and constructed from 1893-96, these adjoining Renaissance Revival buildings are part of the fabric of the NoHo Historic District. Time and the elements were deteriorating their facades and our investigation identified various unsafe conditions. Exploratory probes were used to investigate existing deficiencies and reveal concealed conditions such as the embedment of the windows. We're currently completing plans to replace all windows with new, energy-efficient units that match the originals.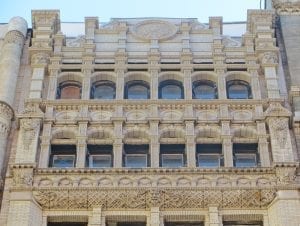 Guided by FacadeCapture,SM which provided high-resolution images of the facades for detailed off-site examination, we undertook extensive restoration of brick, brownstone, and terra cotta components on both buildings. Gladding McBean reproduced about 25% of the terra cotta elements for 708 Broadway's intricately ornamented facade. We also replaced deteriorated structural steel and rebuilt entire sections of both facades, parapets, and roof bulkheads. The roof of 404 Lafayette was assessed and will be replaced with a modified bitumen membrane system.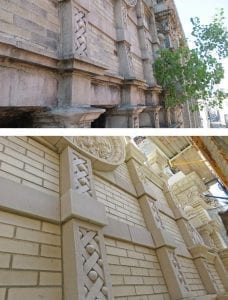 Along with these measures to assess and restore the envelopes of these buildings, we collaborated with Matiz Architecture & Design (MAD) on a structural analysis to facilitate NYU's adaptation of the structures as a fitness center, rebranded as 404Fitness. To prepare appropriate space for the new center's activities, the cellar floor was gutted, a new concrete slab was poured, and negative-side waterproofing was installed to remediate long-standing moisture infiltration.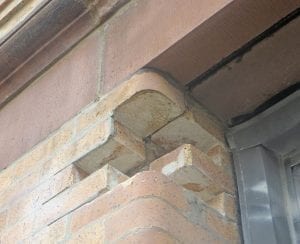 Our extensive work on these buildings offers a prime example of our comprehensive capabilities in action and our capacity to collaborate on designs for vital reuse of existing assets. As MAD puts it, "…the sweat of a strenuous workout now supersedes the sweat of factory workers past." But for us, it was no sweat.